Click here for photo gallery related to this article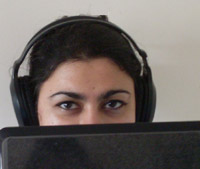 Podcasting couch
By: Chhavi Sachdev
Every city in India has a khau galli. We love to eat. We live to eat. So to celebrate that fact, here's a low calorie way to open up your palate – food podcasts!
I'm not going to review any food-review podcasts because they're usually too localized and heaven knows, there are not enough Indians podcasting,let alone about food. BUT, there's plenty of shows out there for people who like to cook and people who are curious about food.
My favourite show, hands down, is NPR's beautiful "Hidden Kitchens" – you can find it on iTunes or on www.npr.org. Travel with the Kitchen Sisters to different corners of the world, talk to immigrants, exploring their lives through their food.
A little more upbeat is the "FOX & Food Podcast" from Fox News Radio which features a celebrity chef and some good cookin'.
One of the best is a slick magazine show, "The Splendid Table" – 'the show for people who love food. Produced by American Public Media, it's a little more esoteric and worldly and features experts on trends, reviews, and recipes from around the world. The show is so well presented, it doesn't matter if you're in Mumbai or New Jersey.
Moving farther towards education and activism is the "Deconstructing Dinner" podcast (http://www.cjly.net/deconstructingdinner/). Ok, you got me, I really am concerned about GMO and pesticides so this podcast, while certainly scary in a behind-the-scenes-of-a-horror-movie kind of way, is necessary for me. Not convinced? For me, it only added to their cred when they featured P. Sainath in their February 12 episode.
Finally, if you're a social animal, you NEED "The Dinner Party Download" – it's your ticket to "winning" your party. Really. Check it out.
There's plenty more like "Cooking with passion," "Let's get baked," "Good Bite," and "Mouthful." Lots of food for thought, eh? 😀 Remember, you can find these podcasts in several different ways: by searching topic, title, or author in iTunes or podcatchers – aggregators like podcastalley.com or odeo.com – or simply by searching through an engine like Google. You can play them back in Google Reader or Netvibes as well while at your computer. They're free and you can listen to them anywhere …
Happy listening! And DO try this at home. ☺