Click here for photo gallery related to this article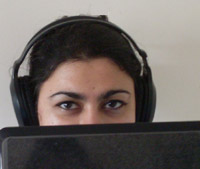 Podcasting couch
By: Chhavi Sachdev
Caveat lector: this column is totally dictated by the fact that I'm traveling in South Africa while you read this. I wrote this before I left and I also thought if you were in my shoes, you'd be doing what I was – listening to free travel podcasts.
First up is Rick Steves, who is a professional traveler. He has a number of shows on tv already but his "Travel with Rick Steves" podcast is a treasure trove in every episode. Since 2005, his podcast has crisscrossed the map, introduced me to some intrepid travelers from all over the world and even taught me how to travel better. Recently, an episode talked to business travelers who now have to sit in economy class in a plane 🙂 Check it out.
"The Indie Travel Podcast" for the independent traveler is hosted by Linda & Chris who've been to 40 countries in the last three years, doing both audio and video podcasts. They have fun personalities and they really make you feel like you're there with them.
Also try "Let's Travel Radio". It sounds a little amateur when the male host is on, but they really do cover all the corners of the globe, recent shows have featured guests from Shanghai Switzerland, and Argentina. The best was the episode about South Africa, of course, interviewing a woman who runs a shelter for injured wild animals outside of Pretoria … great stories, free, and worth downloading. (Avoid the one about India. Seriously. You're already here, anyway. :D)
Along with these, are a couple of defunct podcasts – but with several archived episodes available. "Amateur Traveler" as well as Lonely Planet's "Travel Stories" are no longer updated but are so worth listening to. Another is "Frommers.com Travel Podcast" with nearly 100 older episodes that you can pick and choose from. The sound quality is a little … iffy but the content is pretty good.
Remember, you can find these podcasts in several different ways: by searching topic, title, or author in iTunes or on podcatchers – aggregators like podcastalley.com or odeo.com – or simply by searching through an engine like Google. You can play them back in Google Reader or Netvibes as well while at your computer. The point, though, is to be mobile. So do download them to your phone or mp3 player. They're all FREE.
Happy listening! And DO try this at home. ☺