Feb 20-24, 2020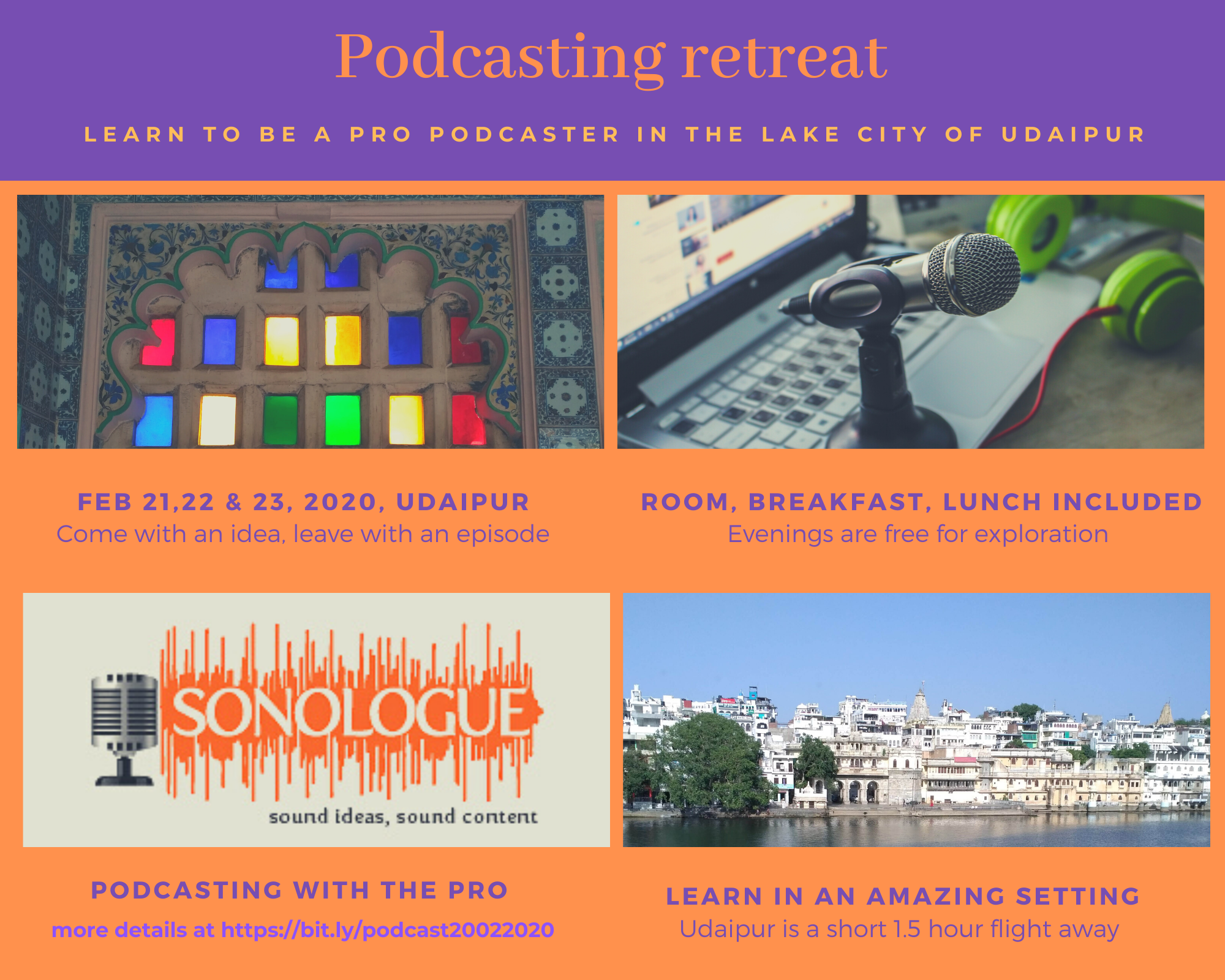 Learn to podcast like a pro in three days in the old city of Udaipur, right by the lake.
Come with an idea, leave with an episode!
If you've wanted to start a podcast but felt stymied — about the process, the equipment, or how to mix it, or distribute it — worry not. Over this three day, three night retreat, India's first and most experienced podcaster will take you through it all: from idea to episode

Even if you've never been near a mic before, we'll have it all sorted out. Bring your plan and we'll give you the process, the training, and the mentoring to release a season. At the end of three days, you'll have a finished piece, of a minimum duration of 5- to 10-minute.

We'll go over formats and genres, recording, set up, interviewing, mixing, and all the odds and ends you need to upload, host, and distribute a podcast. You'll do break out exercises and get lots of hands-on practice.
Bring your ideas, headphones, laptop, and recorder, if you have one. We'll give you motivation, expertise, breakfast, lunch, an AMAZING view and an experience you'll always remember! (+ Cultural show)
SCHEDULE
DAY 1, Feb 20, Thursday — check in any time, dinner provided.
DAY 2, Feb 21, Friday — 10:00 – 17:00, breakfast, lunch, and tea provided.
DAY 3, Feb 22, Saturday — 10:00 – 17:00, breakfast, lunch, tea provided. Later, entry to the culture show at Bagore ki Haveli.
DAY 4, Feb 23, Sunday — 09:30 – 12:30, breakfast provided, wrap up session, late check out.
---
ACCOMMODATION
Provided on twin-sharing basis at a boutique 3.5 star hotel in Udaipur, located right on Lake Pichola.
Beautiful, spacious, well appointed lake-facing deluxe rooms with attached bathrooms are available on twin-sharing basis*.
BOARD
Breakfast, lunch and tea/coffee will be provided. Dinner is on your own.
THE SETTING
The lake city has loads to offer and you'll have your evenings free to take it all in. The hotel is 500 metres from all the attractions of the old city and is situated directly across Gangaur Ghat.

Udaipur is only a 1 hour 15 minute flight from Delhi or Mumbai and is well connected by road, train, and air.
COSTS
The total fee is INR 18,000 for three nights, three days accommodation, and two meals a day + entrance to Bagore ki Haveli, inclusive of taxes
To reserve your spot, pay 50% up front and the remainder 50% by Feb 5, 2020. Bookings open December 1, 2019.
A link will be shared with you after you register.
---
NOTE: *If you don't want to share a room with a perfectly lovely stranger, do let us know. A few single-occupancy non-lake facing rooms are available, but there will be an additional charge of Rs. 3,500 total for the upgrade.
If you have dietary restrictions, please convey that at the time of booking, we will try to accommodate you as best we can.
Contact info@sonologue.com directly, when you reserve your place.
---
---